WHAT TO EXPECT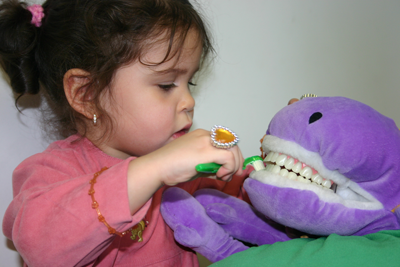 Your Child's First Visit
It is recommended that a child have their first dental check-up by the age of 1. Informing your child about their first dental visit is very helpful. At your child's first visit, we will review the medical/dental health history form with you. Your child will meet Dr. Nakisbendi and have everything explained to him/her. We encourage parents to accompany their child during their visit. This gives you an opportunity to see us working with your child and allows us to discuss dental findings and treatment needs directly with you. A thorough head and neck examination and evaluation of the teeth and gums are performed.  Depending on your child's age and ability to cooperate, a cleaning and fluoride treatment is usually performed at the first visit. Radiographs (xrays) are taken when the child is able to cooperate and we cannot see between the teeth during the exam. We look forward to meeting you and your child for your first appointment!
NEW PATIENT INFORMATION FORMS TO PRINT FROM HOME (requires Adobe Reader)
These can be printed at home and completed prior to your first visit.  Or you may prefer to arrive a few minutes early for your first appointment to allow time to complete these forms in our office.  We look forward to seeing you in our office soon!
 HOME